Dana Verch, M.D.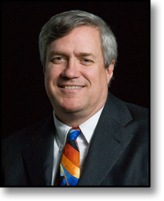 Dr. Verch received a double major at Brown University in Rhode Island in 1982. He completed his medical school training at The Medical College of Pennsylvania in1987 and specialty training in orthopaedics at Geisinger Medical Center in Danville, Pennsylvania in 1992. He went on to complete a one year sports and arthoscopy fellowship with Dr. Mike Malek, past president of the Arthoscopic Association of North America, in Washington D.C. in 1993.
Dr. Verch is currently board certified in orthopaedic surgery. His practice is a mix of sports medicine, arthroscopic and adult reconstructive surgery. These surgeries include; ligament reconstructions and tendon repairs, arthroscopy of the shoulder, knee , elbow, elbow, wrist and ankle, total joint replacements, fracture care and soft tissue injuries of the extremites.
Dr. Verch has been married 29 years and has 4 sons. His outside interests are focused on family and sports including, wakeboarding, skiing, bike riding and motorcycling.
Dana Verch, M.D.
Folsom Orthopaedic Surgery & Sports Injury Medical Clinic, Inc.

1743 Creekside Dr #130
Folsom, CA 95630

Tel: